Application description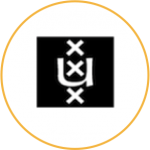 HemoCell, developed by the team of Prof Alfons Hoekstra at the University of Amsterdam (NL), is a parallel computing framework for the simulation of dense deformable capsule suspensions, with special emphasis on blood flows and blood related vesicles (cells). The library implements validated mechanical models for red blood cells and can reproduce emergent transport characteristics of such complex cellular systems. HemoCell can handle large simulation domains and high shear-rate flows providing a virtual environment to evaluate a wide palette of microfluidic scenarios.
The code targets academic and industrial users with an interest in simulating dense cellular suspensions, where the users typically have a special interest in blood-related flows. The users' applications can include a broad range of applications, e.g., understanding experimental observations using numerical simulation, validation based on experimental data, or investigating numerical aspects of HemoCell, such as performance analysis, scalability, and load-balancing.
The source code of HemoCell is provided as an open-source library under the AGPL license. The source code comes with a wide range of illustrative examples and corresponding documentation. HemoCell is easy to compile and runs on a variety of HPC systems (e.g., Snellius (SURF), SuperMUC (LRZ), MareNostrum (BSC), etc.), where helper scripts are included to define the needed compilation environments. So far, HemoCell is not yet provided by default on any HPC system.
Technical specifications
HPC usage and parallel performance
Clinical Use:
Digital Twin
License type:
Open source (AGPL) on GitHub, free
User Resources
Related articles
Závodszky G et al. 2017, Cellular level in-silico modeling of blood rheology with an improved material model for red blood cells. DOI
For more information about the applications supported in CompBioMed, you can contact us at "software at compbiomed.eu".