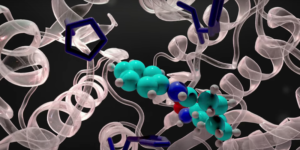 For industrial visitors to our website, we provide on this page selected CompBioMed links and services of particular interest to you. Please check out the links on the column to the right, and stay tuned for more content. If you are interested in working more closely with us or visiting one of our partners for a collaboration, check out our Visitor Programme page for more information
Alces Flight and CompBioMed – Partnership in a 'Cloudy' User Experience
With public cloud now becoming a platform for High Performance and High Throughput Computing the team at Alces Flight has partnered with CompBioMed to explore, engage, and educate its members on methods and means to get ideas running faster than ever before.  Once a curiosity, cloud HPC now has the power to take concepts that might not yet be ready for full-scale workflow design and allow researchers to test and try out concepts before they go into production.  This revolution means some of the most compute-intensive work might not need to wait for exascale to arrive… it can happen right here, right now.
Alces Flight focuses on creating HPC environments on-demand.  Our aim is to have individuals working in the cloud in minutes.  Through our workshops and direct engagement in CompBioMed meetings we've been able to educate members on how to spin up public cloud clusters and show them how to quickly install applications, share our knowledge over 'tricky' applications, and gather feedback on what public clouds people are most interested in engaging with.  Through our collaboration we've been able to write a quick-install guide for those wanting to use Galaxy on AWS, have launched onto Microsoft Azure Marketplace in open source format, and are proud to be updating the team this ISC 18 on cloud impact in research.
Throughout this journey we've remained committed to keeping cloud costs low as users continue to learn the best means to exploit this prospectively 'infinite' resource.  Alces remains committed to the open source movement, ensuring free single-user subscriptions are available on AWS and Azure, and to engaging and listening to feedback on what works and what doesn't in cloud HPC.  Our strong partnerships with the largest public cloud service providers has given HPC a voice and has allowed us the opportunity to take suggestions from CompBioMed forward.  From pricing structures, data collaboration, to utilising resources properly for cost effective simulations, this candid feedback is invaluable to the continued growth towards a more inclusive HPC community.
It is not to say that cloud is the only way, however.  The Alces team fully participate in the hybrid HPC movement and, with over ten years of integration and cluster management experience, know that sometimes on premise is the only way forward in some cases.  This is a key reason we remain at the table for CompBioMed and its revolutionary projects ranging from pharmaceutical research to the goal of personalised medicine.  This research, which touches individual lives and their rights towards privacy, helps to champion improvement in technology – and we are grateful for this.  Understanding where and when certain technologies need to be put in place is key to the success of CompBioMed's research.  We're proud to be a part of this process.
The team at Alces looks forward to continuing our work with the CompBioMed group and to educating and enlightening members on new ways to exploit technology to strive towards better research.
More examples of industrial users: