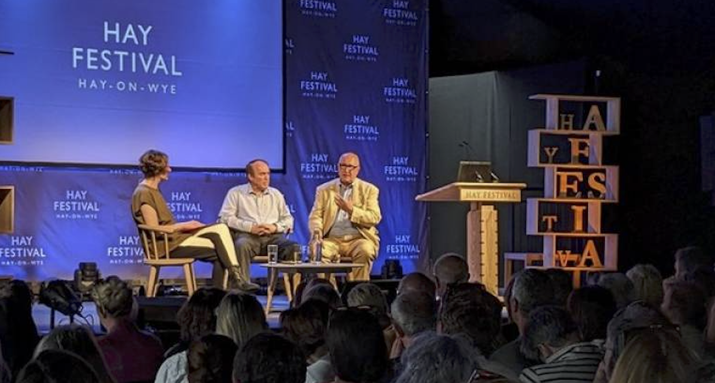 A recording of the authors of Virtual You at the Hay Festival of Literature & Arts has been released as it has been recommended by the Financial Times as one of the best science books to read this summer.
Before a packed audience on Hay's Wye Stage, Peter Coveney of UCL and Roger Highfield of the Science Museum discussed their panoramic account of digital twin research, Virtual You, with Jennifer Gabrys, Chair in Media, Culture and Environment in the Department of Sociology, University of Cambridge.
You can listen to their discussion of how human digital twins can make medicine personalized and predictive here, on the Hay Player.
After a launch event in the Science Museum's IMAX theatre, they have also talked about their new book in a wide range of venues: with the vice chancellor of Oxford, Irene Tracey, at theOxford Literature Festival; at the Cheltenham Science Festival (with Andrea Townsend Nicholson standing in for Peter); at the Lewes Speakers Festival; Google Talks; and at the University of Newcastle.
Later this year, Peter will talk about Virtual You at the Harvard Club in New York City and theAlso Festival, while Roger will attend New Scientist Live in London.
Peter has also been involved in discussions about a Virtual Human Week in New York City, between 3 – 6 October, featuring a Summit on 3 & 4 October, Northwell Health's Constellation Forum on 5 October and a more focused planning meeting in New York City for the development of human digital twins in association with the Midway Crossing Project in Long Island, New York.
The book has had a number of favourable reviews, notably in the FT, New Scientist, E&T and L'Express.